Secmation Awarded $18.8M MAC to Secure NIWC PAC Unmanned Maritime Systems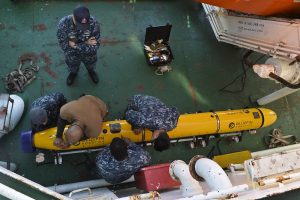 Raleigh, NC, 6/30/2021 –Secmation, a leading small business in the fields of Cybersecurity R&D and Product Development, is on the Applied Research Associates (ARA) team awarded a $18.8M four-year base contract to provide unmanned maritime systems support for the Naval Information Warfare Center, Pacific's (NIWC PAC) ISR Department.
Secmation brings to the team decades of experience developing cybersecurity technologies and products to secure autonomous systems in Defense applications. Enhanced cybersecurity is an important step towards the Navy's vision of an unmanned future. Dr. Hal Aldridge, CEO of Secmation stated
"Security of unmanned and autonomous systems is a growing need as these systems become a part of our daily lives and a target for cyber-attacks. Secmation's strategic focus is to develop cybersecurity technologies to help DoD, Government, and Industry users defend their unmanned systems from emerging threats and comply with evolving regulations. Working with ARA and our teammates supporting NIWC will allow us to significantly contribute to the development and security of essential Navy capabilities."
Secmation is a small business located in North Carolina's Research Triangle Park area. Secmation's business model is to allow our partners to leverage investment from multiple, synergetic Government R&D programs to develop cybersecure unmanned systems.
Partner With Us
Let's connect on how Secmation can help you and your customers.
---