Secmation Announces Release of AutonomyLock™
Secmation releases AutonomyLock, a development tool enabling autonomous systems developers to rapidly and securely launch their solutions.
Secmation's customers are always seeking better, faster, and more cost effective ways to rapidly certify and deploy their systems and capabilities for more resilient uncrewed systems."
— Dr. Hal Aldridge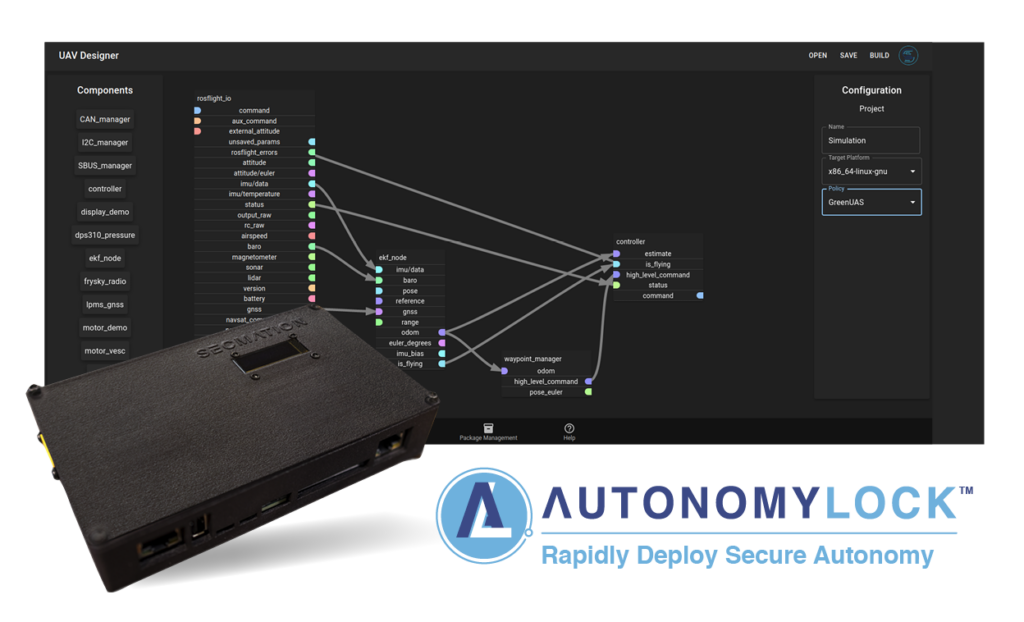 RALEIGH, NORTH CAROLINA, UNITED STATES, May 9, 2023/EINPresswire.com/ — Secmation is excited to announce the release of AutonomyLock™, a rapid development tool enabling autonomous systems developers to launch their solutions quicker and at lower cost. AutonomyLock streamlines software development cycles including accelerating cybersecurity certification processes that are quickly becoming a requirement for autonomous systems. AutonomyLock's innovative capability to automatically add cybersecurity features needed to meet challenging cybersecurity requirements and automatically generate cybersecurity documentation needed for certification is groundbreaking. This automation frees developers to focus on developing their systems instead of relying on availability of cybersecurity personnel and learning to navigate complex certification processes to meet their product goals.
AutonomyLock implements security controls for autonomous and uncrewed systems consistent with the newly announced Association for Uncrewed Vehicle Systems International's Trusted Cyber Framework and Green UAS Program, as well as the well-known Defense Innovation Unit Blue UAS program and similar standards. Compliance with these and other evolving cybersecurity standards including formal certification is essential now for small UAS systems and will be soon for larger UAS and autonomous/uncrewed systems across ground, water, and space applications.
"AutonomyLock speeds up the deployment of autonomous capabilities unmanned/uncrewed systems by allowing direct incorporation of systems designed in familiar programming platforms like MATLAB Simulink and ROS (Robot Operating System). This allows an autonomous systems developer to access a wide variety of proven software libraries and use AutonomyLock to implement cybersecurity, rapidly deploy the software onto secure hardware, and generate cybersecurity certification paperwork needed for cybersecurity and flight/operation approvals", said Dr. Hal Aldridge, CEO of Secmation. "Secmation's customers are always seeking better, faster, and more cost effective ways to rapidly certify and deploy their systems and capabilities for more resilient uncrewed systems. This is exactly what AutonomyLock was designed to do."
AutonomyLock – Integrated Development Environment Plus Optional Secure Hardware
AutonomyLock's Integrated Development Environment (IDE) provides the control system developer an intuitive drag and drop interface to connect different components of the control system. AutonomyLock ensures connections created within its IDE are combined with the security policy rules for the selected regulatory standard and produces a security-compliant out of the box functional system.
The AutonomyLock Secure Hardware can also provide secure hardware for a ready-to-use secure computing environment to rapidly deploy new secure software packages created in the IDE. AutonomyLock's hardware includes a secure processor integrated with a FIPS certified Hardware Security Module and security hardened Linux operating system. This secure hardware supports the ability to network multiple units together to increase the total compute power available for a particular control system. Additionally, the secure hardware can serve as a secure bridge to special purpose processing such as AI accelerators by isolating them from external security threats. The AutonomyLock Secure Hardware is available from Secmation with options to license the hardware design to incorporate into your custom solution.
Secmation specializes in Digital Engineering, Software Development, and Cybersecurity tools and services for Defense and Industrial applications. Our technologies reduce the time to develop, deploy, and maintain machine learning, artificial intelligence, complex automation, guidance/control, secure communications, and other critical software systems securely and on-time. Our experience in autonomous systems design enables us to provide advanced cybersecurity solutions enabling rapid compliance with cybersecurity regulations and certifications.
Our team at Secmation is eager to connect with you to discuss how AutonomyLock will get your products to market quickly and securely. Send us a note: sales@secmation.com and visit the AutonomyLock web page for more information.
Secmation
https://www.secmation.com
+1 919-887-2560
sales@secmation.com
Partner With Us
Let's connect on how Secmation can help you and your customers.
---